Honours & Masters Scholarships
The Next Generation Graduate Scholarships offer honours and masters students the opportunity to work with leading scholars and industry specialists to help solve the world's greatest problems.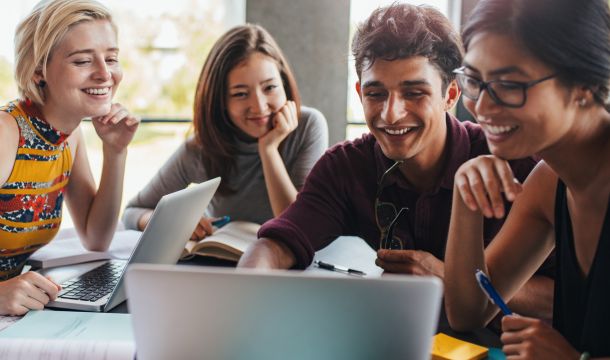 Inspiring the next generation of tech graduates
Gain news skills, receive expert guidance, grow your network and benefit from industry placements.
These scholarships are made possible by CSIRO's Next Generation Graduates Program, an initiative that provides funding and support to attract and train the next generation of 'technology specialists'.
The Next Generation Graduates program is working in partnership with industry and universities to grow a pipeline of home-grown, job-ready graduates to unlock the immense economic opportunity offered by emerging technologies.
There are two streams to this scholarship: Master of Research Scholarship, and Honours Scholarship. Variable conditions exist for each stream; please consult the 'Application Details' section below for further information.
Before submitting your application, please read the NGGP Conditions of Award.  
There are also PhD Scholarships available.
Why study Honours and Masters
HONOURS SCHOLARSHIP 
"You will have an opportunity to work on a project where the answer is not known – not to you, not to your supervisor, and perhaps not to anybody in the world."
Prof Alex Hamilton, UNSW
"Honours gives you a chance to gain new skills in cutting-edge quantum research, in a unique research environment spanning a diverse range of quantum technologies."
Dr Xanthe Croot, Lecturer, University of Sydney
MASTER OF RESEARCH SCHOLARSHIP
"Pursuing a Master's degree equips you to become a future leader in quantum technology. You'll receive training from renowned experts in quantum information, complemented by industry placements. "
Dr Zixin Huang, Postdoctoral Research Fellow, Macquarie University
Creating the next generation of quantum technology specialists
Ready to steer your career in a new and exciting direction? Seeking opportunities to delve into the world of quantum technology? Learn about the scholarships in this short video.   Video courtesy of CSIRO
Projects are offered from across the four SQA partner universities. See

here

for a list of available projects. 

 

Honours Scholarship (University of Sydney, UNSW and University of Technology Sydney) worth $10,000 and a $5,000 training allowance for the duration of your honours year.

 

Master of Research Scholarship (Macquarie University) worth $30,000 per annum (pro rata) for a maximum one-year period and a training allowance of

$5,000

for the recipient's second-year Masters research component.

 

The scholarship includes six days of exposure to industry partners (Honours) or 20 days (Masters) to gain valuable experience to develop your skills and network.

 

Successful students will complete CSIRO project-based learning modules which facilitate multi-disciplinary information exchange, collaboration, cross-cutting skills, and peer-to-peer learning.

 

Students must complete the NGGP Coursework to the satisfaction of the CSIRO Coursework Leads within 12 months of commencement of their Scholarship.  

 
Please note: The details of the scholarship and participating institutions are subject to change.

 
To be eligible for a scholarship, applicants must be domestic students at the time of award. Domestic students as defined in the Australian Government's Higher Education Support Act 2003 include:
Australian citizens

and

permanent residents

Persons entitled to stay in Australia, or to enter and stay in Australia, without any limitation as to time

New Zealand citizens.

 

Students from all identities can apply. W

e strongly encourage applications from those identifying as women or non-gender binary, LGBTQIA+, Aboriginal or Torres Strait Islander, people with disability or who are from culturally and linguistically diverse backgrounds, and anyone from other under-represented groups.

At the time of application, the recipient is expected to apply for or be enrolled in full-time studies in a field related to quantum technology at one of the SQA partner universities, at the level relevant to their scholarship type; either Honours (University of Technology Sydney, University of Sydney, University of New South Wales) or Master of Research (Macquarie University).

 

International students are not eligible, but are welcome to apply for the

SQA PhD Scholarship program

. 

 

 
Supporting documentation
To be considered for one of these stipend scholarships, please upload the following documents with your application. This supporting documentation must be contained in a single pdf (not a portfolio). 
Project proposal

 

Academic transcript(s)

 

Curriculum Vitae

Personal statement

 

Any other information supporting your application.

 
Please note: Failure to follow the guidelines will lead to your application not being considered. 
My supervisor is not on the SQA expert list – does this matter?  
You are most welcome to apply with a supervisor who is not on the SQA expert list, but you still must have a supervisor from our one of our partner universities and the project must be sufficiently related to quantum tech. 
Applications will be assessed based on the following criteria: 
Candidate experience including academic merit, experience in quantum technology and/or any professional expertise

 
Personal statement

demonstrating:

 

Academic achievements, leadership experience, communication skills and interest in studying in the proposed program

Any units of study in the area of quantum technology or related fields that have been undertaken

Relevant experience in quantum technology or related fields gained as part of or in addition to their university studies

Interest in their area of study and why they would like to be part of the CSIRO Next Generation Graduates Program.

Preference will be given to

applicants identifying as

women

(to encourage gender diversity in quantum technology).

The scholarship will be awarded by

Sydney Quantum Academy.

 
Can I find out more about the NGGP scholarships?  
For program offering and partner details see the CSIRO site
Can I start my application form and save it to finish it later?  
Depending on your browser – it should remember you and let you return to the same spot. However, if you open it up on a different browser or device, it likely won't remember you, so make sure to keep a copy of anything you worry about losing to be safe.  
I've accidentally submitted something incorrect on my application – how do I update this?  
If you submit multiple applications, we will use the latest application you submitted before the deadline in the assessment and selection process. If you are having trouble accessing the form after your first submission (i.e., the link takes you to a thank you for submitting page), if you open the link using a different browser application (e.g. Firefox instead of Chrome) and it should let you access the form anew.  
Alternatively, you can also email info.sqa@sydney.edu.au with your updated information.  
Can I reapply if I am unsuccessful?  
Yes, you are most welcome to reapply in future rounds, as long as you still fulfil the eligibility criteria.
Can I apply for an NGGP scholarship and another scholarship at the same time?  
Yes, you can. However, should you be successful for another scholarship it may change your eligibility in terms of the NGGP scholarship.  
Can I get feedback on my application?  
Unfortunately, we cannot provide feedback on your application.   
I have another question not answered here – who can I ask?  
Please email info.sqa@sydney.edu.au and we will get back to you as soon as possible.  
To be considered, please upload in one PDF (not Portfolio) a copy of your university transcript, a brief CV and a one-page personal statement in your application which outlines why you would benefit from the scholarship.  
Please read the Next Generation Graduates Program Conditions of Award before submitting your application.